Last year, we bought Oatway in Roadwater in order to bring it back to life, after 20 years of it falling into rack and ruin. Oatway is a beautiful late medieval hall house, a Grade 2 Listed building (listed 22nd May 1969). It's the second oldest house on Exmoor, and the only known surviving building from Roadwater in medieval times. It's a graceful long house, set squarely in the rural landscape which it has served for hundreds of years. The picture above shows it as it was in the 1990s, before it fell into decline.
It sits in land of an acre, beside the Washford River, and beside the peaceful and unspoilt Mineral Line (which is designated a Principal Archaeological Landscape).
My grandfather, William Court, and his brother Lewis, used to live there as boys. Later, his sister's family, the Murrells, lived there too. My father used to talk about spending family Christmases there in the early 1930s, and I think that Bill Murrell and Lewis Murrell grew up there. I've started meeting people now who had relations living there in more recent times. It's been a well-loved building, and part of the community, I'm looking forward to finding out more about it.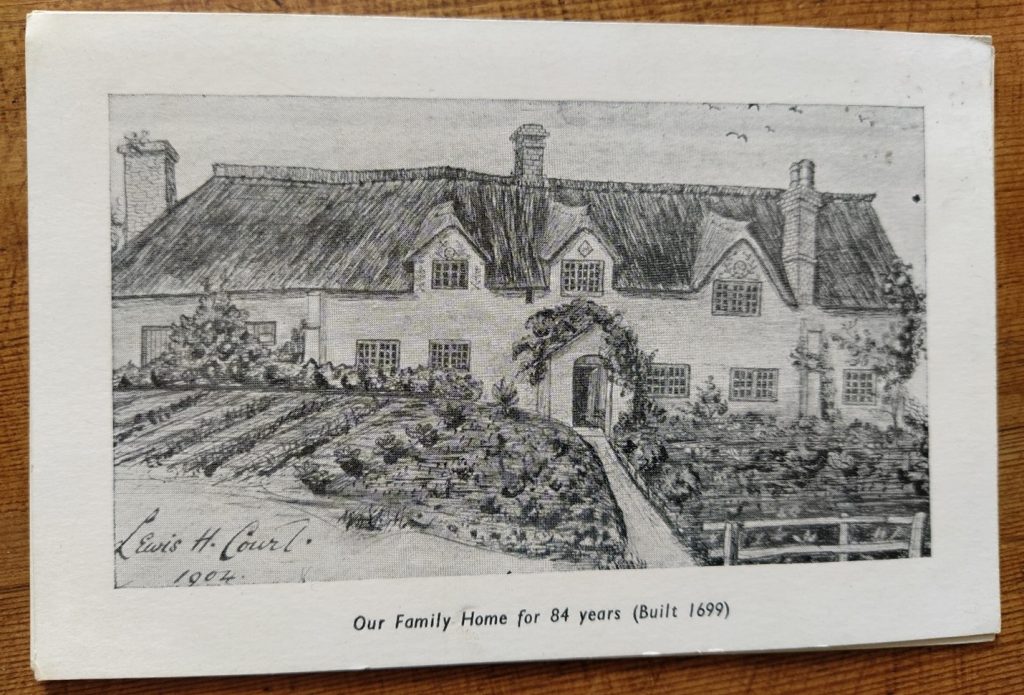 The Exmoor National Park Historic Record provides a technical description of the property:
'Farmhouse with attached outbuilding, now single dwelling. Said to be medieval in origin, remodelled 1700, altered 18th century. Roughcast over rubble, thatched hipped roof, brick stack to left of cross passage, gable ends. Plan possibly open hall, subsequently ceiled, stair turret at rear, extended left with outbuilding. One and a half storeys, 3 gabled dormers, outer 2 with plasterwork crossed palm leaves and initials BWO 1700, left one originally 6-light moulded mullioned casement, now 5-light, others 3-light, groundfloor three 2-light casements with raking buttress between first and second bays, two 2-light mullions left, one steeply chamfered, stepped buttress at junction with outbuilding, small glazed opening with large 20th century picture window and door in end bay; gabled thatched porch with arched opening, moulded ribbed plank inner door. Interior not viewed. Smoke blackened timbers were noted during a site visit on 31st August 2010. … It received a BAR score of 4A. It is long and thatched, with a stair gable and lateral chimney on the western end.'
So it is steeped in history for which words fail me, yet Oatway lay empty and unloved for twenty years. With a leaking roof letting in rain and vermin, it went to rack and ruin. Every time we walked past it, Bryan, my husband, would say 'I'd love to do that up if it ever comes on the market'.
So in May 2018 it finally came on the market. After a long and complicated process, we finally got it, and here it is on Day 1, Spring 2019: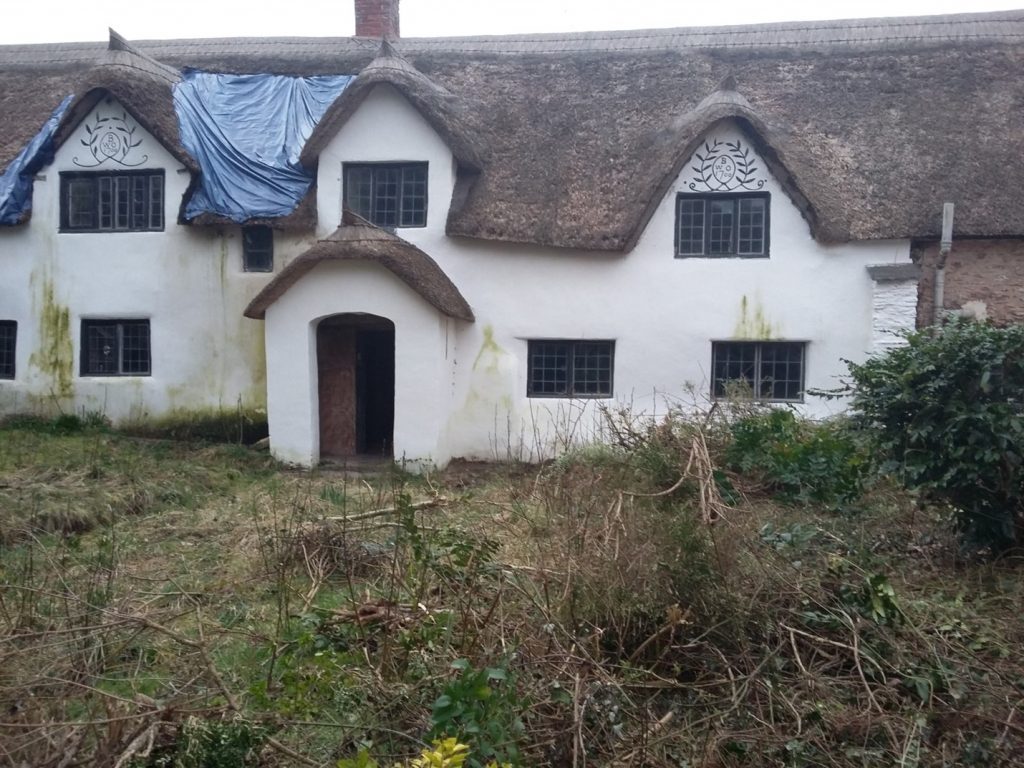 We have our work cut out – this building needs a complete strip out, complete re-plumbing, rewiring, replastering, heating, new floors, the lot. There is so much to do !Everything has to be done by agreement with the local authority as it is a listed building, and we want to be 100% sympathetic to the character, age and history of the building.
The garden too was overgrown, with untended trees which dwarfed the surrounding houses, even the vegetation in the river bank was chock-thick with seasons of brambles, nettles, Himalayan balsam.
So we've started, we've done a lot already, but it's going to be a long and challenging job !